Good morning y'all,

I am not the play 100 games and master none type of player, I am more of the find one that sticks to your ribs and go to the wall with it. A game life for me never started at 1 or 15, it started at 50, 60 or 100 depending on the game. According to Bartles, I am an Achiever and an endgame player. If feel that I was due for a change, I've been bouncing around many games these past few months, then in light ofrecent events I have decided to take the EVE Online plunge and see what all the hullaballoo was all about.
To me, EVE has always been that hot biker chick you see when you walk into a bar. She's attractive and has a bad reputation, you don't know if you are going to strike out, or if you "can hang" with her tough biker pals. But if the chemistry was just right you would be hooked up with her for awhile. EVE always seemed "cool" and I was right about my biker chick theory, we clicked right away. For months now my question has been, "what am I going
to play now", and that's changed to, "why haven't I played this sooner?" If you have been scoping out EVE, on the fence with your current game or in the market for something new then maybe my point of view will help.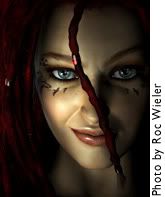 Hot chicks that fly spaceships are hotter than a Hog on a Harley. Check out Mynxee (right) at LifeInLowSec.

10) The EVE-conomy: I'll get this out of the way quick, I ranted and raved about it on SUWT #51, enough already. The fact that this is a single server game provides some interesting situations, especially the fact that players can create (and rip off) their own banks, bring their own corporations public and pay dividends. However, if you choose to go the honest trader route and eventually a business tycoon like I am. You will find out that your local economy is actually a free trading market with prices that differ from other regions. Prices fluctuate between regions and it can be very competitive, as these regions become little "micro-economies" traders compete for the best price. Sounds familiar? Honey, I'm home!
This is a true player driven economy, players are driven but not bound to their local trading hub. If Jita is not for you then you can shop anywhere you want on the fly and start trading making money right away. Infalible wrote an extensive FAQ on jumpstarting your trading career, I've tested it and it works. I was hooked when I saw the words "day-trading", I'm not day-trading yet but I'm already in the millions, thanks Infalible I owe you a donation.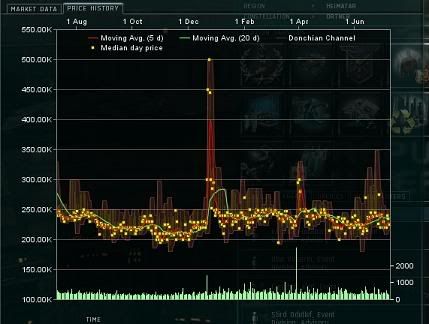 9) Graphics: Breathtaking! CCP really captures the sprawling "deep open space" feel without sacrificing small details on the ships, planets or bases (belong to us). They're layered technology eliminates any lag, provides vibrant colors as a backdrop and you never feel like you're in the same place twice. They have built in a real-time orbit sys
tem so your environment changes even while you're in it. If you have played any of the Freespace games, Freelancer, Sins of a Solar Empire and even Sword of the Stars then you will appreciate EVE. Some of the "zones" actually look like they were recreated from the NASA website photos.


8)Community: I've a
lways wondered why EVE players have this confident swagger about them. It's because they play a quality game, they love it and they're not angry like other gamers. The EVE community as I experienced so far are vibrant, helpful and most importantly MATURE. Everyone I've come in contact with has been a perfect gentleman, even some of the pirates! EVE has a sub base of 300,000 players with anywhere from 25k up to 48k online at any given time as I have experienced, I've never been alone for too long a period before seeing someone fly by me.
If you're worried about the learning curve as I was, then don't. EVE comes equipped with a rookie chat channel with a GM there to answer any and all questions. (I wouldn't want to do his job!) Not the ask directions type of guy, then there is a complete EVE-Wiki and plenty of faq threads on the forums with links to player cre
ated websites to help you. The EVE community even has it's own magazine and online DJ music channel with a jukebox. EVE players are involved!

7) Lore: I don't know much about the ingame lore, but what I do know is that EVE consistently makes the news. Stories of embezzlement, double-crosses and corporate espionage involving real people and are real events. You just can't write some of this stuff, it's so far-fetched. Ever hear the phrase, truth is stranger than fiction?

6) Gameplay: EVE is such an open ended game, that you can play any style or speed you want to. Hardcore PVP? No problem, grab a ship and head over to a 0.0 space. Casual care bear™, no problem there are hundreds of NPC "agents" and 2,000 missions to choose from of all different flavors. In EVE, I just don't feel the "rush to cap" as I did in other games, I feel the "hey, let's do some (insert activity here) for once" because my skills constantly update as time goes by.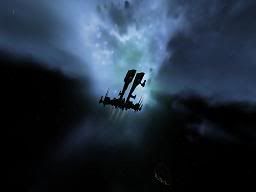 If the UI might seem daunting at first, don't worry, it runs just like any windows program. Basically, if you can read this article then you can play EVE, it's easy. TBQH, sometimes long trips in the ship might be a drag, but EVE feels more like a marathon than a sprint. I'm tired of rushing all over the place to do this quest, drop this off, kill 100 of these and run back. Gimme a break already, I'm tired of being in a rush on my free time.
5) PLEX: I like the fact that CCP offers an ingame method of subscription renewal. The Pilots License Extension (PLEX) can be bought off the market for around $350 million ISK. If that sounds like a lot of ISK then you can drop $35 for 2 months of playtime on a EVE timecard. If you are making a steady income then you are actually playing for free. That is an honest free to play, not the type of game that I have to reach for my credit card every time I play this game. There is no cash shop here for now and that makes me happy; and even if there was, I would still play EVE.

4) Costs: I know you've heard me mention the college gaming fund, this game doesn't stretch it or break it one bit. It actually gives you incenti
ves to invite friends and even advertising for the company can earn you money; CCP has one of the best marketing campaigns I've seen for a game. You can get a 21 day trial on Steam or buy Apocrypha for $15 with a 19.99 fee and get two months playtime. Or buy the box for $40 as I did, get a goofy ship and 60 days of hassle free play. No matter how you slice it, you get a lot of game for $35 bucks. I for one, don't mind paying for quality but if I can get it free none the sweeter, so if anyone wants a 21 day key to try EVE risk free then send me an email, it's on the house. (damn, I sounded like a commercial there…)

3) Longevity: EVE has been around since 2003, I feel that the CCP team has gelled by now and have squashed most if not all the bugs
. CCP continually rewards and challenges there players by steadily releasing new content with the most recent being Apocrypha. One thing that impressed me is that you never have to pay for an expansion, just the monthly fee going forward. EVE downloads without a hitch and has good customer service. Yes, you have to manually download your patch but after that you are ready to fly. You really need to see the new tech 3 ships, they are hot!

2) Customizability: If you have no interest in being a wall street mogul in space then you have plenty of options to choose from. From 4
different races and numerous classes, you don't ever have to feel trapped in that class. The skill and certificate program is how you gain access to different technologies and ships that mean you can fly any type of ship and play any style you want. From the tanking class of large warships, support ships that release drones to stealth based covert ops, you can be any race and have access to anything as you train it. Unfortunately, your avatar is only a still photo, you only move your ship. That's going to change in the future I've heard, but even the avatars can be completely personalized from different backgrounds to the way the light appears on your face.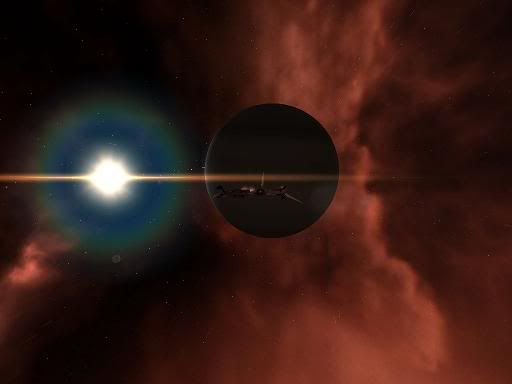 Whether it be a doctors, lawyers or an Indian chief, EVE offers a complete Immersion experience. Anyone who has played Ryzom can identify with the loose class structure by point gain. It's just like Ryzom, except Innnnnn Spaaaaaaaace ( insert echo machine here).

Last but not least is Freedom: Beyond all the options and bonuses I previously gave you, the ones that stick out to be are really simple. For one, I don't have to constantly be pushing the W button to advance in the game. Your skills accumulate over time as you train them in a queu.

So this means I can be __Insert anything here__ while I'm not online and still advance in an MMO?

WOOT!

And if I am mining, I can just sit there and watch myself collect money or __insert anything here__ if I get too bored. (Don't try this in low sec please, I won't be responsible.)

WOOHOO!

Also, if I have to make a trade a few jumps aways, I can hit autopilot __insert hot biker chick here__ and come back when I arrive! (again don't try this in low sec.)

WOO FREAKING HOO!

So there you have it, I guess I'm sounding quite the fanbizzy but when something makes me this happy I need to share it. I know that to the masses this is old news, but to the one or two that are out there might benefit. If it wasn't for the passionate community and the MMO BLOGOSPHERE I would have still been playing (edited). EVE definitely changes my future gaming plans, for now. I feel like I can go long term with EVE, although the way it's set up there is no endgame or cap level.

You just EVE-olve.

Play safe,

Frank